Hopefully everyone had a wonderful holiday, I know I did.  Nothing is better than being to relax and enjoy drinks, food, and family time. Though sometimes it's hectic I wouldn't trade those moments for the world.
The holiday season isn't over just yet though so this post is all about having one last chance to enjoy 2014 and enter 2015 with a bang.
We start, of course, with the perfect outfit. Whether it's short or long, with lace, shimmer, color, or the classic LBD here are some options- what's most important though is that you are comfortable and confident while wearing it.
LBD:


Found this at Express.com where they will ship in under 2 days (perfect). Plus I love the lace detailing!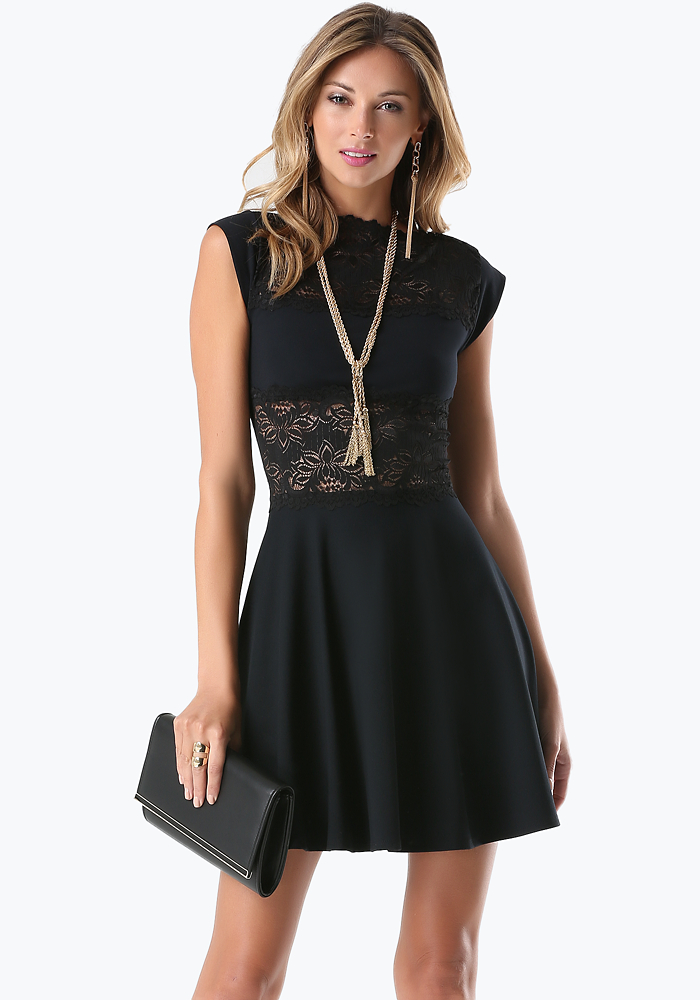 From Bebe I found this gorgeous sheer mini in all black.
Shimmer:
Tips to keep your Holiday mani intact through the next few days.

Forget coal in your stocking. There's nothing more disappointing this time of year than a gorgeous holiday manicure chipping after only a day or two, whether you painstakingly DIYed it or paid good money for it at a salon. Here are some of our favorite time-tested tricks for making nail polish last longer:
1. Clean your nails with astringent before starting, or at least do a good lathering with soap and water. Clearing away any surface oils, grime, or polish remover will ensure that your new color can fully adhere.
2. Wait two full minutes between each coat, starting with your base coat—per Essie Weingarten, founder of Essie nail polish. Tedious, yes, but giving coats time to air out helps prevent polish from mushing and chipping later.
3. Finish each finger with a horizontal swipe of color, and then topcoat, along the top edge of the nail, to seal and protect against nicks.
4. Apply another thin coat of topcoat every other day to re-gloss your mani and guard against chips.
5. If you do get chips in a solid-color manicure, try painting the tips in glitter—a festive twist that'll cover the imperfections quickly and easily. Or do a full glitter topcoat to distract from any flaws.
My favorite festive New Year's Drinks (marthastewart.com)

The classic Champagne cocktail is updated with sorbet in place of the traditional sugar cube and bitters. Use raspberry, passion fruit, lemon, or whichever sorbet flavor you prefer.

The distinctive flavor of Cognac is perfectly complemented by the soft sweetness of sparkling apple cider. A few dashes of bitters in each glass add just the right balance to this cocktail.

Homemade cranberry- and orange-infused vodka form the base of these deluxe cosmopolitans. The classic cosmo ingredients — cranberry juice, orange liqueur, and lime juice — complete the cocktail.

Pear nectar gives buttery smoothness to Moscato d'Asti, a sweet, sparkling white wine. Each glass is garnished with a few dried cranberries and a sprig of rosemary.

Dress up an ordinary mimosa for a special occasion by using brilliant blood-orange juice.

We gave the classic Cuban cocktail a New Year's twist by adding chilled Champagne.

Fresh ginger lends subtle spiciness to this elegant cocktail.
Remember, enjoy responsibly and please don't drink and drive. You want to enter 2015 the right way!