Today was a rather slow day at work (not complaining at all). I have been able to actually check my phone for messages and communicate with friends during the day which has been great. That brings me to this post idea. My friend texted me asking for advice on contouring, saying that it's always something she's wanted to do but just didn't know how. It made me realize that many people don't know how to contour -which is a shame because it can make the world of difference- so I'm here to help.
While contouring can seem intimidating, it can really help to enhance your features while simultaneously make your insecurities vanish by receding features you perceive as not so flattering.
Step 1: Find your face shape. 
a. OVAL: Oval-shaped faces have a length equal to 1.5 times the width of the face, with forehead and jaw equal widths.


b. RECTANGULAR: Rectangular faces are 1/3 longer than the width of the face and have strong angles on the forehead and at the jawline.

c. ROUND: Round faces are as wide as they are long, but with soft, rounded edges.
d. HEART-SHAPED: Heart-shaped faces have the most width at the cheek, eye, and forehead areas, with a narrow to pointy chin.  Sometimes they will also have a high forehead.

e. OBLONG: Oblong faces are as long as it is wide.  Straight sides, a high forehead, and larger than average distance between the bottom of the lip and the tip of the chin are common attributes of the oblong face.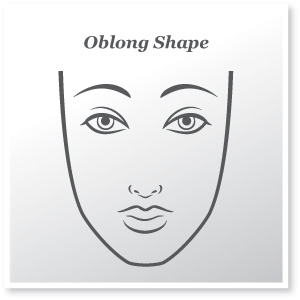 f. DIAMOND-SHAPED: Diamond-shaped faces are characterized by a narrow forehead and a narrow chin with the widest point at the cheeks.


g. TRIANGULAR: Triangular faces are wide at the forehead and narrowest at the jawline; inverted triangular faces are widest at the jawline and narrowest at the forehead.


This one is inverted triangular. Triangular is the exact opposite with a more broad jaw and more narrow hairline.
Step 2. Get Dark. Remember that everywhere you apply your contour shade will be seen as "reduced"(for beginners use a shade around two shades darker than your natural color.) This is especially helpful in minimizing your less-than-flattering features and is used most popularly around the edges of your face and inner nose. The formula varies when choosing a contouring product, but the popular choices are cream (stick) liquid (foundation) or powder (bronzer). Pick your poison.
Step 3: highlight. You will want a color that's one to two shades lighter than your skin. Highlighter will make your features more prominent, so you will want to use this on areas that should appear larger. Chin, forehead, and down and around your nose (in upside down triangles from your under eyes) are the most popular choices.
Step 4: fill in the remaining areas with your normal foundation and blend, blend, blend. Dust on translucent powder to set and you're golden.
Specifics: when it comes to contouring one size does not fit all. You want to customize your shading based on your face shape to have the best effect. This is often why youll hear people complain that they spent all this time shadowing and highlighting and had no result. Just like you favorite dress, your makeup should be custom fit to match your face shape.

Square: to achieve symmetry, your forhead and chin should be highlighted to look more prominent and outer corners contoured to receed.

Round: you are going to want to contour around your temples, around your cheekbones, and down towards your,jawline stopping around the chin. This will visually slim the face. Highlight the center of forehead and chin for balance.

Triangular: the goal here is to make your jaw appear as narrow as your forehead. To do this you should apply a generous amount of highlighter on your forehead, and a dab on your chin. Focus darker shade down your cheeks towards your jawline. Finish with highlighter under the eyes to draw attention to the center of face.

Oval: luckily this face shape is already symmetrical. Highlight across your chin to appear larger and in the center of your forehead, and directly under eyes.

Heart: you want to highlight your chin so that it will apear wider and contour around your temples and underneath your cheekbones (make a kissy face and apply to the hollow area)

Diamond:youll wish ,to highlight vertically down your forehead and horizontally on your chin. Focus your contour under your cheeks
Oblong: youll want your chin to appear smaller so contour the entire lower chin area. Highlight the lower cheek area just around the nose.
Rectangle: you will only want to contour the outer corners of your face shape to reduce sharpness. No highlighter needed.
Hope i was able to help.