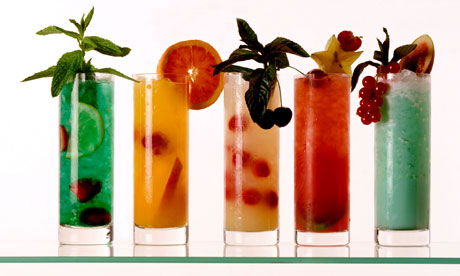 Just kidding, kind of.
It's been a long week between the rush hour traffic, fighting through all that snow, having to chose between wearing cute shoes or wiping out, and of course all of the not-so-lovely people I've had to deal with who have been very angry (I'm assuming this is caused by the weather). Le sigh.
Fear not, this month's Cosmopolitan has come through for me with a lovely drink guide that I just must share with you all -due to the whole long week and all. P.S. this entire issue was amazing, I'm subscribed but if you're not I highly recommend doing so yourself.

"taste the beer rainbow"
So if you're anything like myself, beer can be confusing. Fresh out of college I would settle for whatever was cheapest or familiar. But now I'm proud to say I can go to a restaurant, explore the menu, and try something new.. that I actually like. It's all about knowing your beer, and knowing your taste pallet.
Pick Your Poison. (listed from light to dark)
1. Pilsner: crisp, dry, clean, refreshing, grassy, herbal
2.Belgian Witbier: zesty and juicy, with notes of spicy herbs and tropical fruit.
3.Hefeweizen: fruity and light, with notes of banana, clove, and apple.
4. IPA: big, bitter, versitile, with grapefruit, pine, and floral notes.
5. Sour Beer: unique and complex- can range from light to mouth-puckering.
6. Fruit Beer: sweet and fruity. Peach, cherry, even pineapple.
7. Belgian Dubbel: low in bitterness, with caramel, fig, and cherry flavors.
8. Belgian Tripel: light fruit, a bready sweetness, and high carbonation.
9. Brown Ale: rich, sweet, nutty, woody, and chocolate-y
10. Stout/Porter: espresso, chocolate, molasses, good for dessert
Wine can be very difficult to order, especially if you're not familiar. I learned the hard way though that there will be a time when you'll likely be expected to indulge in some vino and to save any awkwardness its beneficial to know your facts. While dating my fancy pants (haha) boyfriend ive learned quite a bit but that first dinner at a fomal event meeting new family the last thing you want to worry about is studying a wine menu, seriously!
Wine and dine (listed from light to dark)
Pinot grigio: the vodka of wines. Doesnt smell or taste like much
Sauvignon blanc: refreshing, quirky, and a little wild.
Chardonnay: powerful and intense, can be oak-y and mineraL
Riesling: honeysuckle floral, comes in sweet or dry
Champagne: regal, serious, and expensive
American sparkiling wine: wont be as fine as champagne but is less expensive
Rosé:  refreshing and relaxed
Merlot:lush, velvety, rich. Dark fruits and chocolate notes
Zinfandel: jamy tasting. Easy and uncomplicated
Cabernet sauvignon: powerful and polished with lots of body.
Pinot noir: perfumed and elegant with a fruity, rose petal quality