Happy belated Fourth everyone! I hope you all had a safe, fun holiday and got to see lots of beautiful fireworks. Me and Elliott just had a few people over for games, drinks, and a cookout. We conveniently live across from a nature trail along the river that comes to a peak at a cliff where we watched fireworks from all of the neighboring cities. Absolutely perfect!
Here's what I'm loving for this week: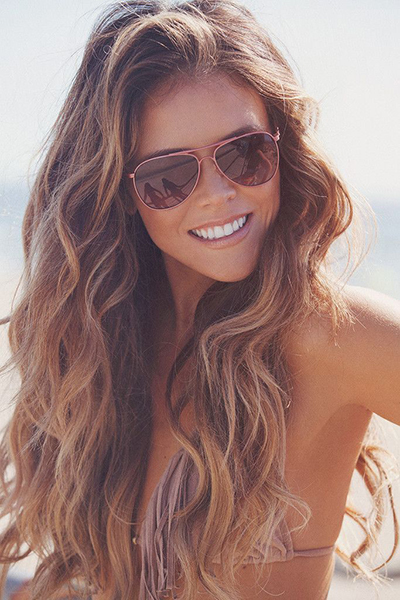 1. Beachy Waves For All.
I love beach waves. They are easy, carefree, beautiful, and they're perfect for summer!
Here's how to get them for each of your hair types, start at night and wake up with perfect hair.
Fine/Straight: Humidity can make thin strands limp and lifeless. Start by spritzing a volumizing mist from root to tips, and divide hair into four sections, tightly braid each one (start at 1-2 inches down for the most natural look), pin each braid to the opposite side of your head and secure overnight. When you wake up, unravel, flip your head upside down, and douse with texturizing spray for a full, cool-girl look.
Curly/Frizzy: Prep hair allover with a combo of equal parts gel and mousse to get touchable hold. Split hair into five sections, one on top and two on each side of your head, twist each piece, starting at the scalp. Pin the twists back at your crown unwind in the AM and avoid adding anything else- too much product will make hair more unruly.
Thick/Wavy: Section towel-dried hair into four equal pieces then work a nickle sized dollop of curling creme through each to enhance the natural bend of your hair. Split each section in half and tie the two pieces together in an overhand knot like you were starting to tie your shoelaces; continue all the way down and secure with an elastic which will bring out a natural loose wave. Undo in the morning, tousle, and mist with salt spray.
Short: Take a 1/2 inch piece of hair and fold the ends halfway up, forming a loop. Roll the loop until you reach the root and secure with bobby pins, repeat with remaining hair. In the AM remove and define waves with molding paste, flip your hair upside down and rake a dime-sized drop through the undersides and along the ends of strands.

2. This Spiked Arnold-Palmer.
I made this for our cookout and it was a hit with guests, and was incredibly easy to make. I chose to make my ice cubes out of lemonade so that when they melt you don't end up with watered-down drink. Enjoy!
Ingredients:
1 Gallon sweet tea
1 Gallon lemonade
1/2 (or more) bottle vodka (you can also use bourbon if you prefer the taste)
2 Fresh Lemons.
Directions: pour entire gallon of lemonade into ice cube trays (I started mine the day before unless you have 8 trays laying around) and freeze. Pop 3/4 of the lemonade cubes into large spicketed container, pour in sweet tea and alcohol (to the desired amount). Serve with remaining lemonade ice cubes.

3. Snickerdoodle Almond Butter, enough said😍
Xoxo, Miranda 💜
Also, follow my snapchat miranda3lyn!