Hello Everyone, I hope you're all having fabulous Wednesday's 🙂 It was an interesting day for me.. I woke up totally late and missed the AM gym sesch but then ended up getting out early so I went after which kind of made my whole day loopy. I would normally skip the gym but tonight is Italian cheat night and we're making stuffed ravioli, garlic bread, alfredo sauce, and of course some Pinot 😉
Just wanted to stop in and say "hey" see how everyone is doing. Also I wanted to post a quick review on Clinique's new Long Last Soft Matte Lipstick in shade "petal". I have used Clinique's "long last" lipsticks previously and while I wasn't disappointing I wouldn't say I was wowed either.

(Ignore the slightly chipped polish 🙂 )
Enter this beauty: It's advertised by the company as "Long-wearing formula keeps its just-applied look for hours. Non-drying, non-feathering. Full coverage, velvety, soft matte finish."
AND I COULDN'T AGREE MORE WITH ALL THE ABOVE!!
When I first applied the color I thought "wow that's bright!" but after some getting used to I became obsessed! It made my lips appear more full and I received compliments from strangers, coworkers, and even (gasp) my boyfriend!! He's normally not a huge fan of bright colors.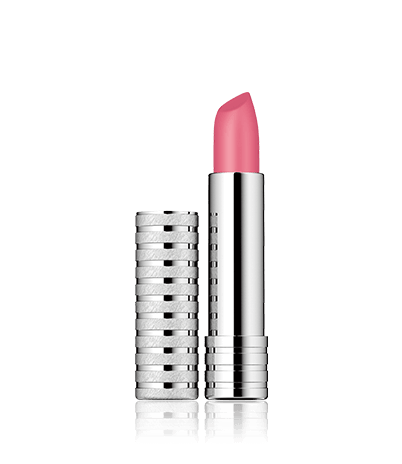 What surprised me more was how long it seemed to last. I spent all day wearing this shade and while I did touch up here or there to make the color more vibrant the lipstick lasted for about 8 hours or so! Also strong selling points: while it is certainly a matte formula it was incredibly soft and went on soooo smooth. My lips didn't look or feel dry at all.  I'm now dying to invest in a few more shades! I highlyyy recommend.